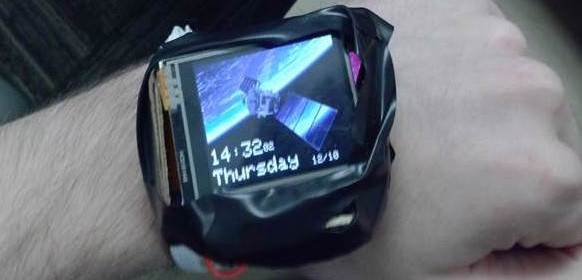 Matthew Filipek's DIY smart watch is PIC32-powered and features a 1.7 inch touch screen, SD card, Bluetooth module, and other apps with total cost of build less than $100.
Matthew writes,
The watch currently has 3 apps: a settings app where the user can set screen brightness, change the time and date, and change the theme of the user interface; a game app, where the user controls a small paddle with the touch screen and attempts to deflect balls into goals; and a paint app, where the user touches to draw one of 8 selectable colors to the screen. The watch also has Bluetooth functionality, where it relays the time and date to a paired device upon receiving any character from said device.

An elastic strap is used to tether the watch to the user's wrist. In order to extend battery life, the screen is set to turn off after 10 seconds of inactivity on the home screen. The watch wakes when a button on the side is pressed, and the sleep timeout is disabled if the user decides to proceed past the home screen. A resistive touchscreen on the TFT is used to navigate through menus and use the apps. Date and time are displayed on the home screen. Touching the screen anywhere will bring the user from the home screen to a menu with all of the app icons. The user may then select an app by pressing on it. The apps also make use of the touch screen for user input. The 600mAh LIPO battery can be charged with an on-board charger. There is a mini-USB port on the side of the watch for powering the charger.