DIY USB power meter stick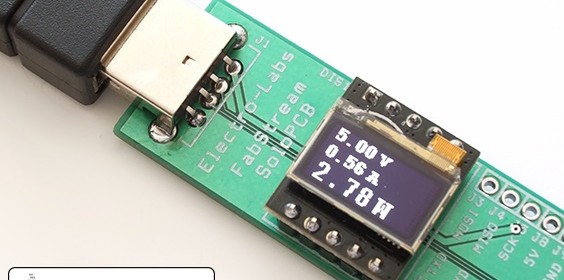 Electro-Labs has posted a new project about making a DIY USB power meter based on Atmega328 processor. It sits between the USB port of the computer and the USB device to be connected to monitor the USB output supply voltage and the current drawn by the USB load device. The computed power consumption is displayed on a small OLED on the board. The USB meter stick itself gets powered from the USB port.
The board is built around an Atmel ATMEGA328 microcontroller. To make the circuit as small as possible, the MCU is used in minimal configuration. Internal 8MHz oscillator is used. The voltage and the current are measured by the internal 10 bit ADC. To make the measurements more accurate, an external 2.5V voltage reference IC, Microchip MCP1525 is included. The current is converted to voltage on a 0.01R sense resistor and precisely amplified by LT6106 before read. The stick can measure up to 2.5A. Since the OLED display requires 3.3V supply voltage, L78L33ACUTR linear voltage regulator is used for 5V to 3.3V conversion.
Related Posts