Mini breakout board for 18-pin PIC16F series microcontrollers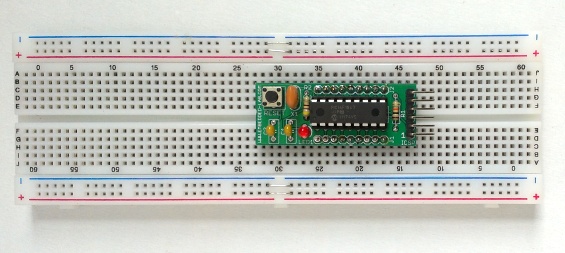 This mini breakout board is designed to simplify prototyping and experimentation work with the popular 18-pin PIC16F series microcontrollers. It is small in size (1.95″ X 0.75″) and is breadboard friendly.
It supports PIC16F84A, PIC16F628A, PIC16F88, PIC16F648A, PIC16F1827, PIC16F1847, and other 18-pin microcontrollers in the same series.
Features
On board Reset switch and decoupling capacitor
Easily plug into breadboard
On board ceramic resonator (20MHz)
ICSP header for PICKit2/3 connection
All 18 pins of the microcontroller are broken out to a breadboard friendly 0.1″ pitch header
We are selling this as a kit for $7.50 on Tindie. The kit does not include any microcontroller. The following picture shows the components that you will find in the kit.
Tindie buying link: Mini PIC breakout board
Update (March 21, 2013)
The new PCBs are manufactured from OSH Park and of better quality. Here are the soldering instructions for this kit.
1. The Mini breakout board kit consists of the following parts.
2. First solder the low profile components (resistors R1 and R2, capacitor C1, resonator, LED, and tact switch). R1 is 10K and R2 is 470 Ohm. The LED is turned on when you power (+5V) the breakout board.
3. Next solder the 18-pin DIP socket.
4. The headers should be soldered last. You can place the straight headers and the board on a breadboard during soldering. It helps to align the headers straight.
Tindie buying link: Mini PIC breakout board
Related Posts