Introducing Easy Matrix: A cascadable 8×8 LED dot matrix display module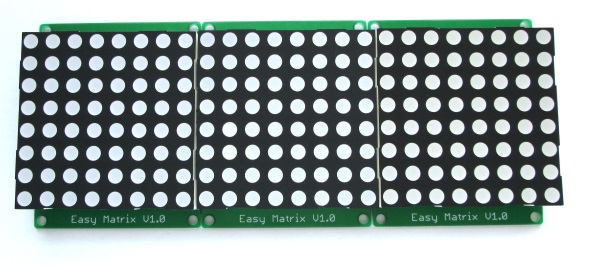 Easy Matrix is an easily cascadable 8×8 monochromatic LED dot matrix display module with onboard MAXIM's MAX7219 LED driver chip. The MAX7219 allows you to drive the LED matrix using only three I/O pins of Arduino or any other microcontroller. The LED matrix module used in Easy Matrix has a bigger dot size (5mm) and has the overall display dimensions of 60.2mm x 60.2mm (2.4″x2.4″). It is easily cascadable in series with the help of precisely aligned male and female header pairs located on the left and right sides of the display module. With lots of freely available Arduino libraries for MAX7219 chip, this module is easy to use in any Arduino project for displaying basic text and animation.
Description
The Easy Matrix PCB dimensions are 60.5mm (2.4″) x 75.0mm (2.95″) and has 3.5mm mounting holes at its four corners. It uses a male (J1) and female (J2) headers for cascading multiple modules in series. The MAX7219 data input and control signals are accessible through J1 header on right side. The J2 header provides the MAX7219 serial data output and control signals to another Easy Matrix module cascaded to its left. Two 1×8 female headers are used as sockets to hold the LED matrix module with A-type polarity, which means the rows are common-anodes and the columns are common-cathodes. The picture below shows an Easy Matrix display PCB with all the electronics components assembled. One of the header socket is marked with a "circle with 1" to indicate where the pin number 1 of the LED matrix display should be inserted.
Features
Demo project: Portable Bluetooth-enabled Scrolling LED Matrix Display
Related Posts