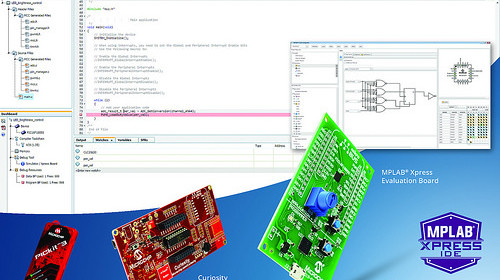 Today, Microchip Technology Inc. has launched MPLAB Xpress, a cloud based development environment with the most popular features of the MPLAB X IDE.
Microchip Technology Inc. (NASDAQ: MCHP), a leading provider of microcontroller, mixed-signal, analog and Flash-IP solutions, today announced its MPLAB® Xpress Cloud-based Integrated Development Environment (IDE).  This online development platform is the easiest way to get started with PIC® microcontrollers (MCUs), with zero downloads, sign-in or setup needed to start designing.  Microchip's free, cloud-based IDE brings the most popular features of the award-winning MPLAB X IDE to Internet-connected PCs, laptops or tablets.  MPLAB Xpress offers the industry's most comprehensive feature set, including a library of Microchip-validated code examples, interface to MPLAB Code Configurator (MCC) 3.0 for GUI-based MCU peripheral setup and automatic code generation, integrated MPLAB XC compilers, support for programmer/debugger hardware, and 10 GB of secure online storage with a myMicrochip account.  Users can easily migrate their projects to the full, downloadable MPLAB X IDE.  Additionally, the MPLAB Xpress Community enables developers to share their code, design ideas and knowledge.

MPLAB Xpress can be accessed from anywhere in the world athttp://www.microchip.com/Xpress-021516a.

A free MPLAB Xpress Evaluation Board (limited quantities available) can be obtained by filling out the form at http://www.microchip.com/Xpress-021516a, or by visiting Microchip's Embedded World booth (Hall 1: Booth 1-510).  A brief presentation is also available at http://www.microchip.com/Presentation-021516a.