New product: ASK RF transmitter and receiver kit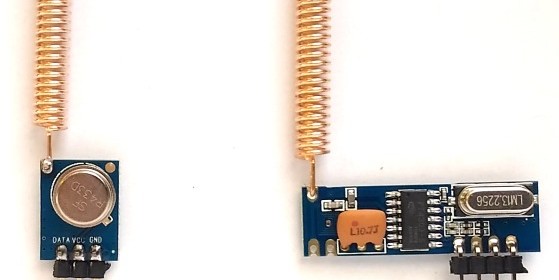 Today, we have added a new product to our Tindie store. It is a complete set of ASK RF transmitter and receiver modules for enabling wireless data transfer between two Arduinos. The kit consists of high quality ASK transmitter and receiver modules (433MHz carrier) along with matching copper spring antennas.
There are tons of other cheap ASK modules available in the market. Most of them do not come with antennas and the user has to cut out and install a right size wire antenna for reliable operation. Our kit includes a complete solution with copper spring antennas. Following features makes our kit special.
High quality circuit board and components
Include matching spring antennas made of copper
Very compact size
Works with both 3.3V and 5.0V platforms.
0.1″ pitch through holes header connector (right-angled headers included) that makes it breadboard friendly
Half-cut through holes for easy PCB mount
Related Posts