Another LUX meter using MAX44007 ambient light sensor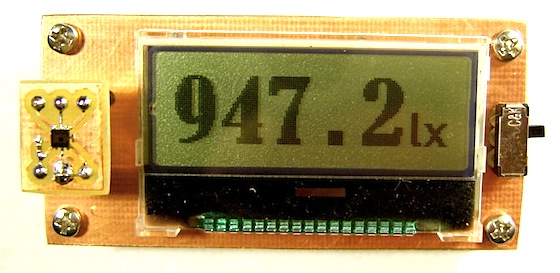 In his digital light meter project, Shawon Shahryiar demonstrated a technique of using a normal LDR to construct a simple LUX meter that outputs the ambient light conditions on an LCD display. While this technique is simple and cost-effective, it requires an additional reference photometer to calibrate the LDR first adding an additional step. I came across this another LUX meter project on University of Wisconsin-Superior website that eliminates the need of external calibration and provides very precise measurement of illuminance in the range of 0.025 – 99999 LUX.
This project uses Maxim's MAX44007 ambient light sensor which features an integrated photodiode with onboard ADC and I²C digital output. The sensor is designed to operate from a 1.7V to 3.6V supply voltage and consumes only 0.65µA in full operation. It has an extremely large dynamic light range that extends from 0.025 lux to 104,448 lux. The microcontroller used in this project is Silicon Laboratories C8051F304, but the sensor can be interfaced to any other microcontroller with I2C capability.
Related Posts