Digilent announces the 8th annual US regional design contest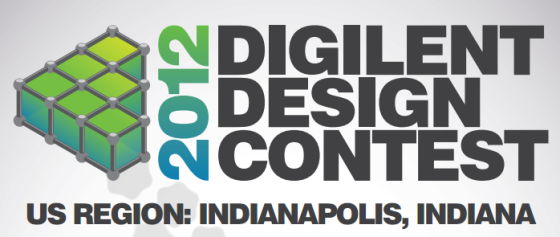 Digilent has just announced the 8th annual US regional Digilent Design Contest, to be held on May 6-7, 2012 in conjunction with the IEEE EIT conference in Indianapolis. Digilent Design Contests are engineering contests open to all students enrolled in any educational institution in that region. Students are challenged to create an original project using Digilent boards, whether FPGA boards featuring state-of-the-art Xilinx FPGAs, microcontroller boards featuring Microchip microcontrollers, or chipKIT boards based on the Arduino development environment.
Contest enrollment begins on January 25th. Project presentations and judging will take place on May 6th, with the winners to be announced on May 7th. Attendees of the EIT Conference are invited to attend the contest. Judges will be looking for creativity, feasibility, and originality, and judging positions are still available. Please contact Digilent if you are interested in participating as a guest judge for the contest.
The US contest is one of several 2012 regional contests, including China, the EU, and India. Digilent awards generous cash prizes to the top finishers and donates the hardware used by all contestants.
The 2011 Worldwide Digilent Design Contest Finals were held last September in conjunction with the FPGAWorld conference in Munich, Germany. Participants included 16 teams from China, India, Romania, Switzerland, and the US. Winning projects included a smart shopping cart, a bomb disposal robot, and a GPS-enabled rover.
Guidelines for the Digilent Design Contests will be available at http://www.digilentinc.com/events/ddc2012/  or http://www.facebook.com/Digilent?sk=app_244940582228984.
Projects from all Digilent Design Contests, including documentation, are available at http://digilentinc.com/NavTop/Showcase.cfm.
Related Posts