Microchip's new Gesture controller IC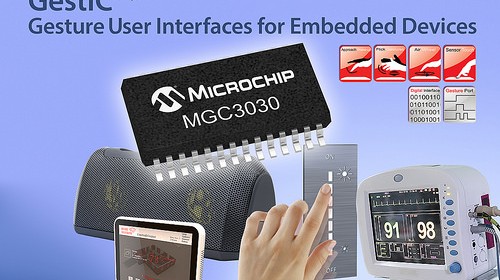 Microchip Technology has announced the second member of its award-winning and patented GestIC® family. The new MGC3030 3D gesture controller features simplifies user-interface options focused on gesture detection, enabling true one-step design-in of 3D gesture recognition in consumer and embedded devices. Housed in an easy-to-manufacture SSOP28 package, the MGC3030 expands the use of highly sought after 3D gesture control features to high-volume cost-sensitive applications such as toys, audio and lighting.
The simplicity of gesture-detection integration offered by the MGC3030 is also achieved through Microchip's free, downloadable AUREA graphical user interface (GUI) and easily configurable general purpose IO ports that even allow for host MCU/processor-free usage. The MGC3030's on-chip 32-bit digital signal processor executes real-time gesture processing, eliminating the need for external cameras or controllers for host processing, and allowing for faster and more natural user interaction with devices.
Related Posts