Reviewing Dorji's DSTH01 digital temperature and humidity sensor module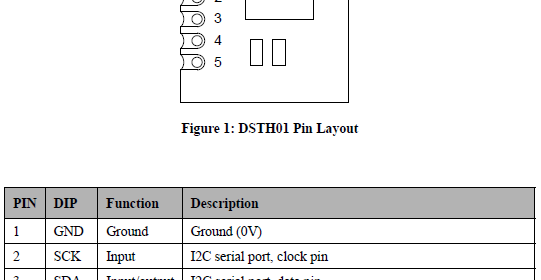 A couple weeks ago I received some sample products from Dorji Applied Technologies, a china-based company that make varieties of RF and sensor modules. One of the products I received was their latest DSTH01 sensor module that carries Silicon Labs' Si7005 digital relative humidity and temperature sensor on board. Things I liked about it are it is inexpensive (available on Tindie for only $6), compact, and most importantly it supports I2C host interface for communication.

The DSTH01 module is smaller than 0.4″X0.4″ in dimension and operates at 2.1-3.6V power supply. The pull-up resistors for I2C lines are available on board. I tested this sensor module with Crowduino (an Arduino Duemilanove clone with Atmega328) using Jonas Bo Jalling's Si7005 Arduino library, and worked like a charm. Crowduino has an on-board power select switch to chose the supply voltage for operation between 3.3V and 5.0V. I chose it to operate at 3.3V (although it should not matter too much as I2C lines are already pulled-up to 3.3V from the sensor module). Since the DSTH01 module interface pins are not 0.1″ standard, I soldered the pins onto a small general purpose prototyping board and made the pins accessible through a 0.1″ male header pins, as shown below.
Pins 1 (GND) and 4 (CS) of DSHT01 are connected to the ground terminal of Crowduino. Similarly, pins 2 (SCK), 3 (SDA), and 5 (VCC) are connected to A5, A4, and 3.3V power supply of Crowduino, respectively. The setup is shown below. The Crowduino board reads the sensor outputs and sends them to PC through USB-UART bridge at 9600 baud rate.
I wrote a small PC application using Processing programming language to read the measurements through PC's serial port and display temperature and relative humidity in a nice graphical window, as shown below.
I monitored it running for almost an hour while writing this blog article, and I found the output readings very stable and consistent. I had done a similar experiment with DHT11 sensor in past, which is another inexpensive sensor, but the readings were less stable compared to this.
Overall, the DSTH01 sensor module is inexpensive, compact, stable, and supports I2C interface. These features makes it a good choice for low-budget temperature and humidity sensing applications.
Download Crowduino/Arduino Sketch
Related Posts