Seeed Fusion OPL Enables Complete PCB Manufacture and Assembly in One Week at Low Cost

What is the Seeed OPL?
The Seeed Fusion Open Parts Library or OPL is a tailored catalog of over 600 carefully selected components available for use in Seeed Fusion's PCB assembly service. From capacitors and connectors to ICs and displays, these parts are always in-stock and guaranteed to be cheaper than externally sourced parts. By using these components in Seeed's PCBA service, you will save time and money and at great convenience.
More Reliable
Components from the OPL are sourced from Seeed's long-term partners. They are tried and tested in Seeed's own products and undergo the same strict quality control procedures. And since there is always stock, if one part is defective it can easily be replaced. Arguably this is better than outsourcing from a reliable distributor such as DigiKey since outsourced parts cannot be easily replaced and may have been damaged while traveling halfway across the world.
More Convenient
The Seeed OPL was designed for convenience and simplicity. Seeed partnered with PCB design giants Eagle and KiCad to produce the Seeed OPL component libraries, so you can just download the packages and start designing. The resulting design is guaranteed to be compatible with the Seeed Fusion OPL and PCB Assembly service, so no more wasting hours checking availability and compatibility with suppliers.
There is also plenty to choose from; the Seeed OPL does not just include passive parts but many that are utilized in Seeed products and more. Hand-selected by our engineers, the parts are decided on based on customer popularity and feedback. Most recently, in response to the increasing interest in IoT, we introduced Particle's popular P0 and P1 Wifi modules into our stock.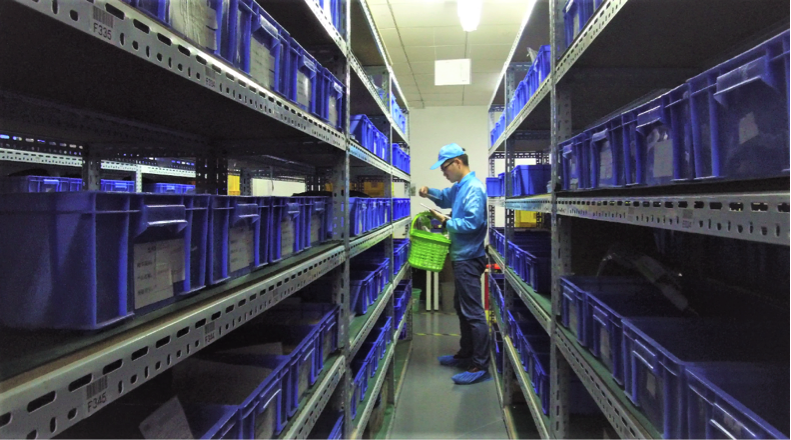 Faster
Typically, the lead time for PCBA is 25 working days. That is over a month before you can begin testing the design and make amendments if necessary. For some, that is much too long. But by sourcing all parts from the OPL, the lead time can be reduced to as short as one week.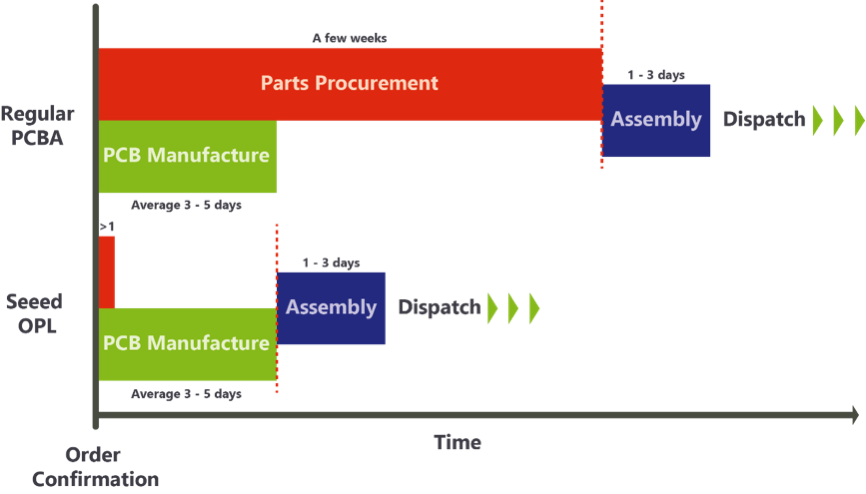 When a PCBA order is placed, Seeed will simultaneously begin PCB manufacture and order the parts. Both the PCBs and parts are needed to begin assembly, assembly itself can be completed from 8 hours when all the materials arrive. The long lead time for standard PCBA is a result of the long import procedures which cannot be rushed. But since the OPL parts are always in stock, using these will effectively reduce the lead time for parts procurement to zero, speeding up PCBA and allowing greater control over the overall lead time.
Cheaper
Since Seeed OPL parts are purchased in bulk from trusted partners, the cost per component is guaranteed to be significantly lower compared to buying them in small handfuls, and you won't need to worry about delivery costs. These cost savings are passed on directly to customers. What's more, this month only, Seeed Fusion has waivered the cost of over 400 parts from the OPL, so you can use them completely free, no restrictions applied.
The Seeed Fusion OPL has already helped many of you reach critical deadlines and slash costs, and we hope it can continue to do so. We would love to hear if you have any new additions you would like to see in the OPL or other suggestions regarding any of our services. Please drop us a message at fusion@seeed.cc. The library and Fusion as a whole is continuously being enhanced thanks to feedback from you.
Don't forget, Seeed Fusion is currently holding huge Spring sales across PCB and PCBA services. For the last three days, get 10% off PCB orders, $50 off PCBA orders and over 400 OPL completely free!
Watch the factory tour of Seeed Studio:

Related Posts