Bluetooth connected thermometer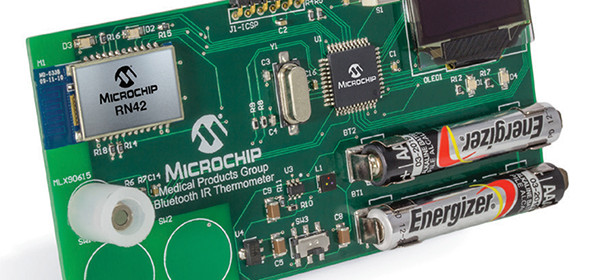 Bluetooth connected thermometers are making their way into many consumer products such as fitness devices, medical activity trackers, BBQ Grills, etc, to allow temperature monitoring through smartphones and tablets. This reference design from Microchip illustrates the implementation of a Bluetooth-connected digital thermometer using Microchip's PIC16F1519 MCU and RN42 Bluetooth Module.
Powered by two AAAA batteries, this design measures temperature in Fahrenheit or Celsius using the Melexis MLX90614 non-contact infrared thermometer sensor. It also implements input touch buttons using mTouch integrated capacitive touch technology. An OLED display on board is used to demonstrate stand-alone design capability, while the Bluetooth module demonstrates smartphone/tablet connected design capability. This reference guide therefore provides useful tips to design a low-cost wireless digital thermometer that can be handheld or integrated into a wearable device.
Related Posts