Microchip's new PIC32 Bluetooth® Audio Development Kit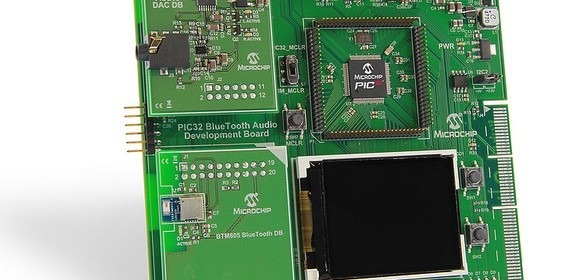 Microchip has announced  the new PIC32 Bluetooth® Audio Development Kit that enables custom application development on the PIC32 microcontrollers (MCUs) for Bluetooth and USB digital audio solutions.
The PIC32 Bluetooth Audio Development Kit that ships with audio streaming demo code delivers up to 24-bit, 192 kHz audio and has been tested with over 100 different Bluetooth audio enabled devices, spanning 18 different manufacturers.  The Bluetooth Hardware module and the Bluetooth A2DP audio software have been Bluetooth.org certified, saving the developer significant certification costs.  The modular design allows developers to swap out the included daughter boards (one for Audio and one for Bluetooth), to create their own custom versions with their preferred audio and wireless solution.  The kit also supports USB Host and Device connectivity, Apple® device authentication module interface, a 2-inch color LCD, five general-purpose button switches, 5 LEDs and a Plug-In-Module interface for PIC32 microcontroller upgrades.  The PIC32MX450F256 MCU is included which runs at 80 MHz with 256 KB Flash and 64 KB RAM.  With such a broad feature-set and flexibility, the kit makes an excellent general purpose development tool.
Related Posts