Starting STM8 Microcontrollers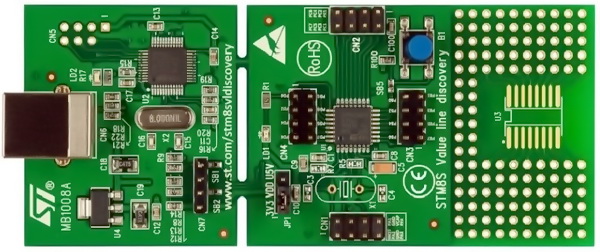 Overview of the Discovery Board
For getting started with STM8s, STM has provided several STM8 Disco boards. There are also other third-party boards too. However, I strongly recommend Disco boards for learning and experimental purposes. There are several reasons for this recommendation. One main reason is the fact that all Disco boards come with on-board detachable ST-Link programmers and they are extremely cheap. Shown below is the top layout of a STM8S discovery board.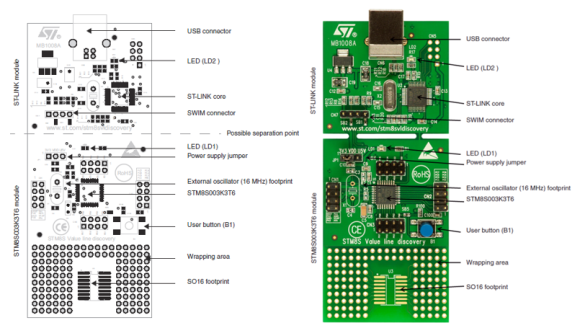 The board I mostly used here in this article hosts a STM8S003K3T6 micro. It is a 32-pin entry-level microcontroller with 8kB flash memory, 1kB RAM and 128-byte true data EEPROM. It comes with some additional hardware – a LED connected to PD0 and a push button connected to PB7. Just as I stated before it also houses a detachable ST-Link V2 programmer. However, I don't recommend separating the programmer from the whole package. The board also has a prototyping area should one needs to prototype something. The overall board has a small form-factor and is a bit longer than a standard credit card. There are several other similar and popular STM8 Discovery boards like the STM8S105 Discovery.
There are also bulks of cheap Chinese minimum system STM8 development boards hosting different STM8 chips. Overall the boards and the chips are so cheap that many simple cheap gadgets from China are based on STM8 MCUs.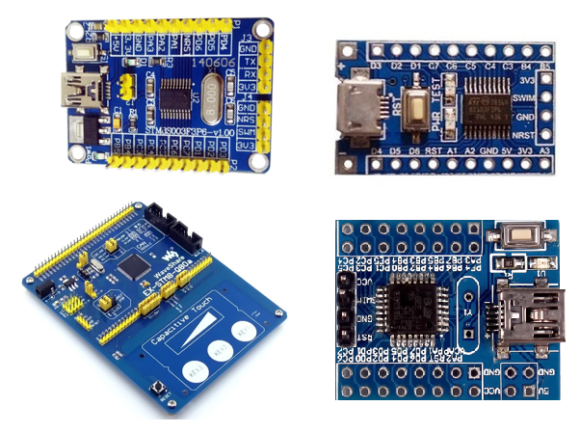 Some cheap STM8-based simple products are shown below:

The first one is a cheap DIY LC meter LC-100A. The other one is a simple DC panel meter. These are just simple examples. There are many industrial and sophisticated products based on STM8 micros.
Related Posts